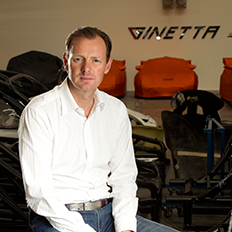 Lawrence Tomlinson - Biography
Lawrence Tomlinson has grown an impressive business portfolio from a single care home in 1988 to the award winning LNT Group which employs over 2000 people across its five diverse core businesses; Ideal Care Homes, LNT Construction, LNT Software, LNT Solutions and Ginetta. Lawrence's business acumen and foresight has ensured the LNT Group remains one of the fastest growing companies in the UK.

...read more
Press Release - 05/05/2015
Lawrence Tomlinson Responds to The Times' Evidence on GRG
The Times has today reported new evidence which provides further backing to the allegations made in the Tomlinson Report. The Times reports that documentation and whistle-blower evidence has come to light which shows a concerted effort by RBS to utilise their Global Restructuring Group ("GRG"), to "reduce exposure to businesses that had badly affected its capital position" which led to "stripping assets of struggling firms".

The findings suggest that, in 2011, GRG personnel were trained to specifically assess the impact of SMEs on the bank's capital ratio, which led to the financial pressures and foreclosures reported in Lawrence Tomlinson's report.

Commenting on The Times' report, Lawrence Tomlinson said:

"These findings are in line with the information received in the compilation of the Tomlinson Report which demonstrated that the RBS non-core strategy included perfectly operable SME businesses. The evidence, uncovered by The Times, seems to confirm that GRG was the tool RBS used to implement their strategy of reducing non-core assets.

It looks as if many businesses have been the unwitting victims of RBS's desire to strengthen its balance sheet. This is another example of the interests of the bank and those of its customers being two very different things."
Considering at the current political context, Tomlinson adds:

"There can be no clearer evidence that the Government-backed banks are too big and require decisive political action to prevent the continuation of the banking scandals of the last seven years. I'm delighted that this has come to light so close to the General Election giving whichever Party, or Parties, who form the new Government impetus for change. Splitting up the banking oligopoly by breaking up RBS and Lloyds is the only tenable way of refocusing the banks on their customers' needs, injecting competition back into the market. The onward impact will be felt across the UK economy, supporting the industries which are the powerhouse for growth and exports.

Whilst it is now too late for the parties to include measures into their manifestos, once the Government has formed there should be a drive to implement policy which will secures more banking competition. I will be very willing to work with the new Government to assist them to create a banking market place which works in the favour of businesses across the UK."
Press Release - 10/03/2015
Lawrence Tomlinson Responds to Treasury Select Committee Report
Following the publication of the Treasury Select Committee report, "Conduct and Competition in SME Lending", Lawrence Tomlinson has released the following statement in relation to two key aspects of the report; the conduct of the Royal Bank of Scotland's Global Restructuring Group (GRG) and competition in the banking sector.

In regards to the allegations surrounding GRG, Lawrence stated:

"The Committee is rightly critical of the narrow brief and lack of independence of the Clifford Chance report into the allegations about the Royal Bank of Scotland's GRG. The misleading evidence provided by the two senior executives of the bank, Chris Sullivan and Derek Sach, is testament to the culture that appears to prevail in the Royal Bank of Scotland. Whilst I hope the Financial Conduct Authority's report into GRG will be more far reaching and independent, it must not be forgotten that the Clifford Chance report included some extremely concerning findings, especially in relation to the lack of transparency of fees and failure to use the RICS red book when undertaking valuations. I entirely agree with the suggestion posed by the committee that an un-transparent fee is inherently an unfair fee. This should be considered in the FCA report given the negative impact these fees have had on businesses in GRG."
Lawrence has frequently recommended the break-up of the Government-backed banks as a solution to the frequent scandals and mis-selling claims that result from the cultural attitude towards customers in the banking sector. He added:

"I'm delighted that the Treasury Select Committee has taken such a firm stance on competition in the banking market place. I strongly endorse their recommendation to the Competition Markets Authority to consider the essential need for structural reform to reduce market concentration. Through the publication of the Tomlinson Report, I hoped to highlight the type of behaviour that has been allowed to permeate the bank/business relationship without recourse due to the lack of competition for SME lending. Poor customer treatment has continued as borrowers have nowhere else to turn given the oligopoly of the big banks. As the Chancellor has recognised, bank behaviour is a core concern of the electorate. It is not too late to take decisive action and I urge all political parties to give this full consideration when drafting their manifestos. It is a long term solution which will generate a greater return to the Treasury than the immediate sale of the Government-backed banks."
Press Release - 24/11/2014
Lawrence Tomlinson responds to RBS/Treasury Select Committee exchange on 'inaccurate' evidence.
" It's extremely disappointing that once again RBS has not taken an open and honest approach to dealing with very serious allegations. The misleading nature of the evidence provided by RBS executives Derek Sach and Chris Sullivan makes a mockery of both the Parliamentary process and of the SMEs who have suffered as a result of the banks' actions. Once again, we are left to question whether this is incompetence on behalf of the bank or intentional distortion of the facts. Either way, when we have paid such a high price to save the bank, and to remunerate the highest quality staff, it is beyond unacceptable that this behaviour should continue. Mr Sullivan even reportedly received a £470,000 bonus shortly after his appearance in front of the Committee"



The bank is still too big to fail and in turn, too big to control – it's time for decisive action to create smaller, more manageable banks who have to compete for clients to stop the perverse incentives that have prevailed amongst the biggest banks.
Press Release - 06/11/2014
Lawrence Tomlinson Comments on the CMA MIR on SME Banking
"I'm extremely pleased with today's decision from the Competition Market Authority to issue a Market Investigation Reference into SME banking which has received widespread support.

I have long been a proponent of increasing competition in the banking market place as decisive action is needed to rectify the David and Goliath nature of the business/bank relationship, addressing the negative culture that has developed in these institutions. It's time to get banks serving business again - not the other way round! This can only be achieved through the break-up of the banking oligopoly between Lloyds and RBS into six smaller, more manageable, accountable and competitive banks beyond the small divestments already planned.



Whilst we have seen an upturn in the economy, the real economy is still not showing the growth we need for long term sustainable growth with exports continuing to struggle. Access to finance and fair banking arrangementsis necessary to enable SMEs, the engine behind our economic success, to flourish.

I very much look forward to seeing the CMA's findings when they report on their MIR."
Press Release - 25/11/2013
Lawrence Tomlinson is today publishing the findings of his report on banks' treatment of businesses. Lawrence's report focuses on the large body of evidence he has received about RBS' turnaround division, Global Restructuring Group (GRG).  He has uncovered very concerning patterns of behaviour leading to the destruction of good and viable UK businesses.     Lawrence, who is the Entrepreneur in Residence at the Department for Business, Innovation and Skills, is calling for further investigation into this behaviour by the appropriate authorities and immediate action to stop this unscrupulous treatment of businesses.

The findings of Lawrence's report suggest that there are occasions in which RBS is engineering a business into default in order to move the business out of local management and into their turnaround division, GRG.  This then generates revenue for the bank through fees, increased margins and the purchase of devalued assets by their property division, West Register.  Once in GRG, Lawrence asserts that the business is trapped with no ability to move or opportunity to trade out of the position.  Commenting on the publication, Lawrence said:

"The profit-making nature of GRG significantly undermines its position as a turnaround division, in which good businesses should be restructured and returned to normal banking.  The temptation to get hold of assets and take additional profit from these businesses to boost GRG's balance sheet is clear.
From the cases I have heard, it is clear that a perception has arisen that the intention is to purposefully distress businesses to put them in GRG and subsequently take their assets for the West Register at a discounted price.  This needs to be addressed and the conflict of interest removed. 

Now RBS is aware of this behaviour through my work, the work of Sir Andrew Large and the investigation by the Sunday Times, it's time for them to look carefully at the processes and actions of this part of the bank. There are many devastating stories of how RBS has wrecked good businesses and the ruinous impact this has on the lives of the business owners.   I look forward to seeing how RBS proposes to take forward the forensic investigation into this part of the bank."

Lawrence's recommendations call for more competition to remove incentives to make short-term decisions purely in favour of bank profit rather than in the interest of the longer term customer relationship.  He states that:

"Without competition in the banking sector, these scandals will continue to come to light and ever more business will be hurt in the process.  With RBS and Lloyds at the size they are at, smaller challenger banks will never be able to adequately compete to take their customers and drive true market forces.   It is vital that RBS and Lloyds are made significantly smaller, removing conflicts of interest within the bank, and creating a number of smaller, purely retail/commercial banks."
Feedback
If you would like to contact us regarding the report please send an email to feedback@tomlinsonreport.comAll feedback will be dealt with confidentially